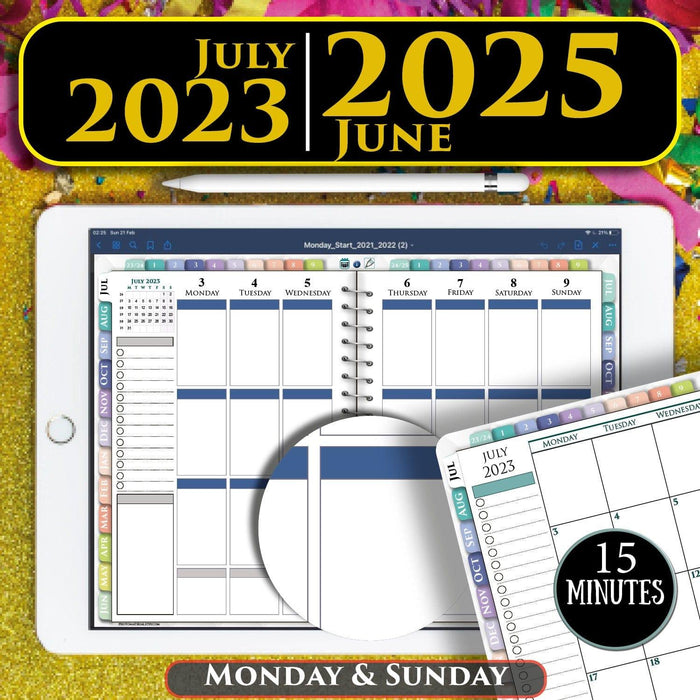 Goodnotes Weekly Planner Template for 2022 2023 Digital iPad Planning
Digital Weekly and Monthly Planner for Productivity
Discover the ultimate digital planner designed to boost your productivity and streamline your tasks. Whether you're using GoodNotes 5, Notability, Noteshelf, or ZoomNotes, this planner is perfectly tailored to suit your note-taking needs.
Maximize the Potential of This PDF Digital Weekly Planner for Effective Digital Planning
Unlock the full potential of your digital planning experience with this versatile PDF weekly planner, compatible with GoodNotes, Notability, or Noteshelf. From 2023 to 2025, make the most of its features to stay organized and efficient.
Instructions for Optimal Use:
Optimize your productivity with an iPad and an Apple Pencil.

Choose the best note-taking app for your preferences: GoodNotes, Notability, Noteshelf, ZoomNotes, or PDF Expert (pick only one app).

Seamlessly import the PDF planner into your chosen app.
Enhance Your Planning with Two Options:
This digital planner comes in two variations, each with a distinct start calendar—one with a Monday start and the other with a Sunday start. Find the one that best suits your planning style.
═══════ > FEATURES < ═══════
✔️ Two PDF files available—choose between the Monday start calendar or the Sunday start calendar.
✔️ Comprehensive 2-Year Planner covering the period from July 2023 to June 2025.
Experience Smooth Navigation:
Our PDF planner boasts a total of 525 pages, thoughtfully designed with 8354 hyperlinks for effortless navigation between dates. Stay organized and focused on your tasks with ease.
Stay on Top of Your Schedule:
Utilize the Monthly View Pages: With a large spread for convenient planning, reference the next month's calendar on the left corner, complete with hyperlinked dates.
Make the Most of Weekly View Pages: Plan your weeks effectively with a monthly calendar, a dedicated notes section, and vertical boxes for planning and digital stickering.
Capture Your Thoughts with Additional Pages: Utilize the lined page template for monthly notes, ensuring you never miss any essential details.
Plan Ahead with Year Planner Pages: Enjoy a 2-page spread for each of the 12 months, providing a clear overview of your yearly schedule.
Enhance Your Digital Planning:
Embrace the power of digital planning with this Weekly Planner, tailored to meet your weekly and monthly planning needs efficiently.
Please Note:
This planner is intended for personal use only. Unlock your productivity potential and take charge of your schedule with our feature-packed digital planner.
======= Video Tutorial
How to Import Planner into GoodNotes or Notability
HOW TO USE hyperlinks in Goodnotes 5

HOW TO USE hyperlinks in Notability

changed 22/07/2023