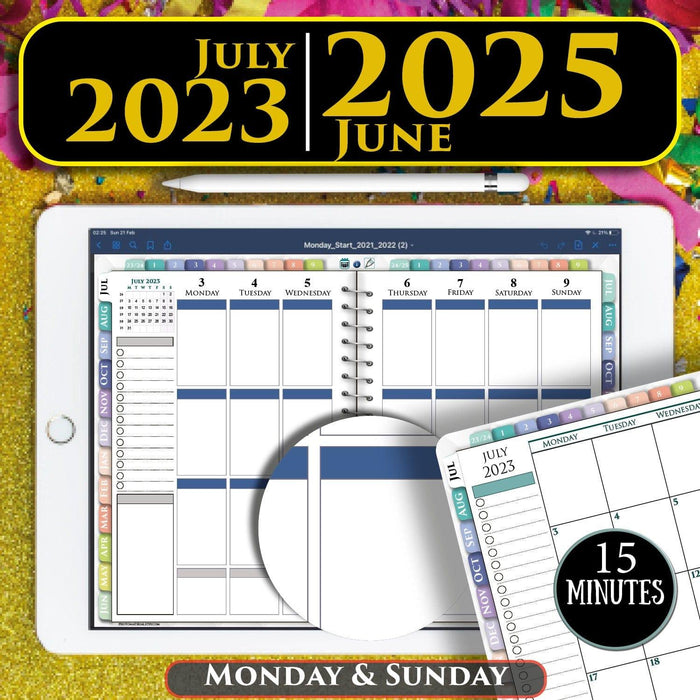 Erin Condren Digital Life Planner 2023-2025 for iPad
Unlock unparalleled productivity with the ultimate Digital Life Planner tailored for 2023 to 2025. Designed meticulously for users of GoodNotes 5, Notability, Noteshelf, and ZoomNotes, this planner is the key to a streamlined and efficient planning process.
---
Top Features to Boost Productivity:
Flexible Start Days: Choose between two versions - a Monday-start calendar and a Sunday-start calendar.
Detailed Planning: Navigate through 525 pages seamlessly with 8,354 hyperlinks. This ensures you stay organized and agile.
Comprehensive Coverage: Dive into planning from July 2023 and sail smoothly till June 2025.
Intuitive Views: Embrace the large Monthly View Pages, make the most of the Weekly View Pages, capture fleeting thoughts on Additional Pages, and envision the year with Year Planner Pages.
---
Set-Up Guide:
Team up your iPad with an Apple Pencil for optimal efficiency.
Handpick your preferred app: Be it GoodNotes, Notability, Noteshelf, ZoomNotes, or PDF Expert.
Easily import the planner and dive right into planning.
---
Please Note: Embrace your path to productivity with this planner, but remember, it's crafted for personal use. Make every plan count!
Last Updated: 22/07/2023

Plan, execute, and thrive with the Erin Condren Digital Life Planner. Your journey to organized success starts here!