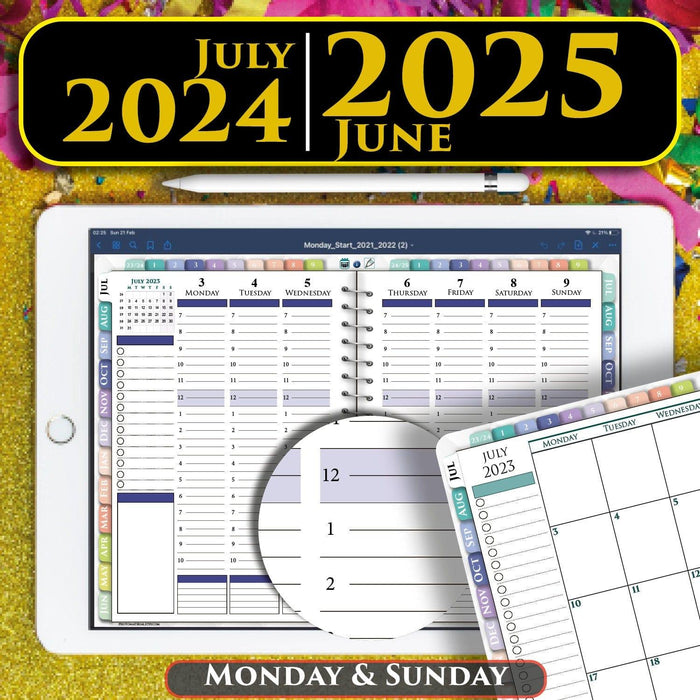 Digital Weekly Hourly Planner for 2023 2025
What is Digital Hourly Planner?  It is PDF DIgital file with hyperlinks for navigation between 2023 2025 calendar dates. 
This Planner Works in Note-taking apps - such as GoodNotes, Noteshelf, Notability, PDF Expert.

Week Planner by 1-hour timelines. iPad Planner has 24 months with July 2021 start and June 2023 End. 

HOW TO USE THIS DIGITAL WEEKLY HOURLY PLANNER for GoodNotes or Notability or Noteshelf? 
1) Take iPad with Apple Pencil
2) Install One of these Note-taking app - GoodNotes or Notability or Noteshelf or ZoomNotes (only 1 app)
3) Import my planner there
You will receive 2 best hourly planners with a Monday start calendar and Sunday start calendar 

1-hour timeline
═══════ > FEATURES < ═══════
2 files - Monday start calendar planner and Sunday start calendar planner 

Start - July 2023- End - June 2025

The PDF file with 525 pages and 48354 hyperlinks for navigation between dates 

1) Monthly Pages (24 months) 
2) Weekly Pages
3) Additional Pages
4) Year Planner Pages

5) Monthly Notes Pages  (10 lined pages for each month) 
 you can use this Weekly Planner for Weekly planning and Monthly digital planning

FOR PERSONAL USE ONLY

Video Tutorial 
How to Import Planner into GoodNotes or Notability
HOW TO USE hyperlinks in Goodnotes 5

HOW TO USE hyperlinks in Notability

updated 29.07.2023