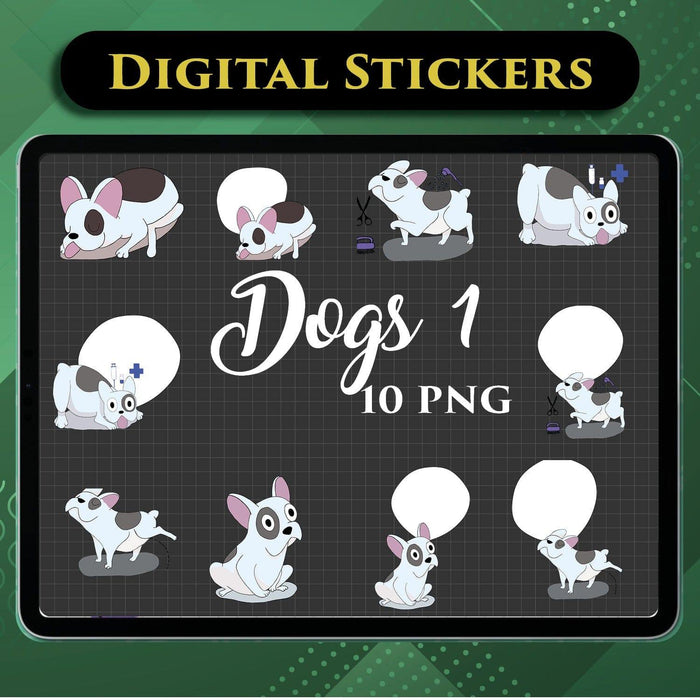 Digital Dog Stickers set 1
Original Digital Stickers with dogs.
Do you want to decorate your digital planner or notepad in Good Notes or Notability?

Digital stickers can bring joy and dilute gray planning. You open your digital planner, and funny dog ​​stickers look at you.

By the way, read my blog article if you want to draw calligraphic fonts in GoodNotes, just like in Procreate. 

How to use digital stickers in good notes

you have two ways
1) Save all digital stickers to your iPad's gallery.
use the Gallery button in good notes and insert any digital stickers directly into your planner

2) The second way to use digital stickers in good notes is to use the Element tool.
here you can save all stickers by category, and it will be convenient for you to choose pictures by sort or mood

Once you have placed a digital sticker, you can resize or reposition it on the planner page using the Lasso tool.

If you want to start a separate notebook for digital stickers - look at this notebook.

Friends, I wish you a lot of fun digital planning and scrapbooking.
All stickers are in PNG format 
You will get 10 files with transparent background
All stickers are for personal use only. 
The size of each sticker is 1000 px