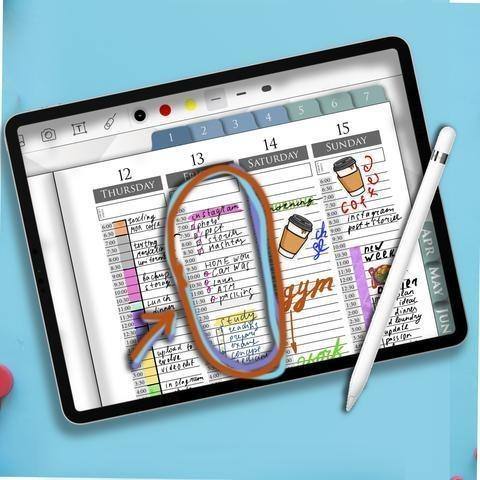 Digital Planning in iPad Pro Air and Mini Tutorial
 Digital Planning in iPad Pro Air and Mini Tutorial. You can use these styles for your digital planner in Inksot Notes, Goodnotes, Noteshelf or Notability
1. TIME BLOCKING
draw blocks that will determine the length of time for completing tasks. Make lines thicker than main planner lines
2. COLOR CODING
Use a specific color for your task. For example - school lessons - red, homework - green. Assignments for the first child in blue and for the second brown.
3. DIGITAL JOURNALING
This method is suitable for you if you are on vacation. You simply write down at the end of the day what happened to you today. Because you are resting and you should not plan, except for some major and important events. You can also use this method to write down your ideas after reading books.
4. TIME TRACKER
draw a line along the entire timeline. then horizontal lines stake the time that will be needed for a particular task. Optionally, you can also use colored markers - to make planning more attractive or to use color to encode tasks for different people or for different types of tasks
5. TO DO LIST
to-do list is the easiest and at the same time very effective way of digital planning.
Write your tasks without reference to time. Give a to-do list name and highlight it with a marker
6.  IPAD LETTERING
iPad Lettering - see examples of using different fonts on the Internet and be bolder in experiments
7. PASTE DIGITAL STICKERS
Use digital stickers for your digital planning in the planner. You can use masu stickers as you like. You can use either free pictures only for personal use or buy ready-made digital stickers or draw these stickers yourself
 You can look at my video here