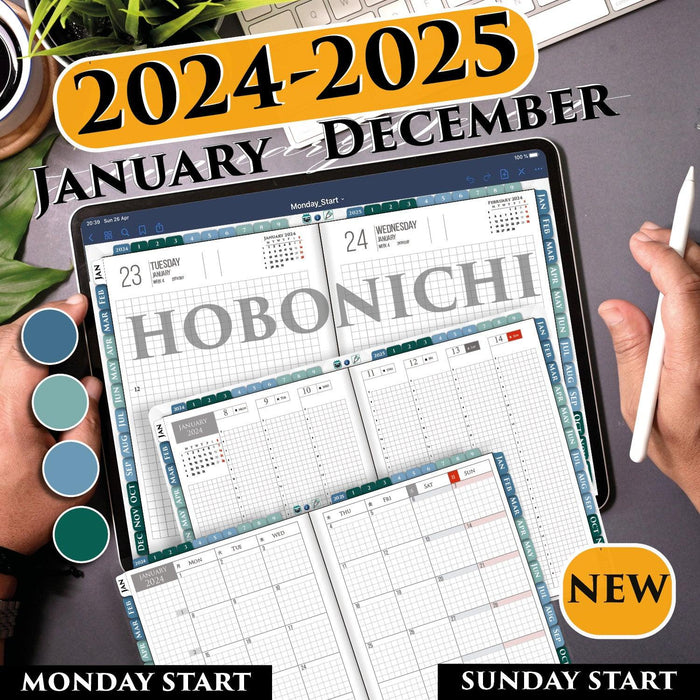 Digital-PDF Hobo Techo Planner for iPad: Plan, Organize, and Create with Ease!
Looking for the ultimate digital planner for your iPad with a stylus? Look no further! Our Digital-PDF Hobo Techo planner is thoughtfully designed to cater to your planning and note-taking needs. With its distinct grid-style pages, it's perfect for organizing your life and jotting down ideas, all while enjoying the convenience of digital planning.
Compatibility and Ease of Use:
Our digital planner comes in a PDF format and is fully compatible with popular annotation apps for iPad Pro, Air, Mini, and more, such as GoodNotes, Noteshelf, and Notability. Simply choose one of these apps, and you're all set to unleash the power of our digital planner with your Apple Pencil.
Navigate with Hyperlinks:
We understand the importance of smooth navigation, and that's why our planner features hyperlinks for quick access between dates. Effortlessly jump to any day, week, or month within the planner, making your planning experience seamless and efficient.
Versatile Planning:
With a total of around 960 pages, our planner covers a span of 24 months, from January 2024 to December 2025. You'll receive not one, but two Digital Daily Planners, each offering a choice between a Monday start and a Sunday start calendar. Whether you need to plan your day, week, or month, our planner has got you covered.
Your Creative Space:
The Hobo Techo planner layout, with its grid-style pages, provides a canvas for your creativity. Write, draw, sketch, and plan to your heart's content, and let your ideas flow freely with the assistance of your trusty Apple Pencil.
Got Questions? We're Here to Help:
We want you to make the most of your digital planning experience, and we're always here to assist you. If you have any questions or need guidance on using the planner, feel free to reach out to us via email at andrew@ipadplanner.com or drop us a direct message on Instagram @ipadplanner.
Unlock the Full Potential with Video Tutorials:
To help you get started smoothly, we've prepared comprehensive video tutorials that cover essential topics:
How to Import Planner into GoodNotes or Notability
HOW TO USE hyperlinks in Goodnotes 5

HOW TO USE hyperlinks in Notability


Don't wait any longer to take your digital planning to new heights! Get your hands on the Digital-PDF Hobo Techo Planner for iPad today and experience the joy of efficient, organized, and creative planning.
Updated: 08/08/2023