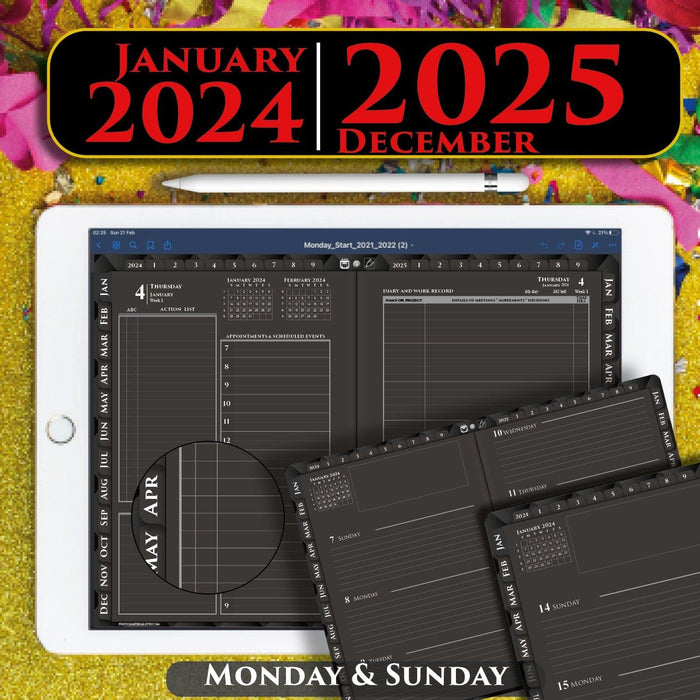 Black Digital Planner for 2024 2025 years planning
Black Digital iPad Planner for 2024 2025 year planning calendars  with a Black Paper template for Goodnotes, Notability. High contrast and looks great
This planner is a PDF file with hyperlinks for quick navigation. It is easy to use and comfortable for handwriting with an Apple pencil on all iPad tablets. 

If you have any questions about digital planning in current planners - email me at info@digitalplanner.top or DM me on Instagram @ipadplanner.
Hyperlinked Digital Daily Weekly Hobo planner for GoodNotes and Notability iPad planning.
HOW TO USE THIS PLANNER?
1) Take iPad with Apple Pencil
2) Install One of these Note-taking apps - GoodNotes 5 or GoodNotes 6 or Notability or Noteshelf or ZoomNotes or PDF Exper (only 1 app)
3) Import my planner there
>>> Monday start calendar and Sunday start calendar <<<<<<

Calendar start - January 2024- Calendar End December 2025 ( 24 months)

you can use this Daily Planner for Daily planning, Weekly Planning, and Monthly digital planning 
Planner contains around 960 pages and 152 328 hyperlinks for quick navigation between dates
══ Video Tutorial ══ 

How to Import Planner into GoodNotes or Notability
HOW TO USE hyperlinks in Goodnotes 5

HOW TO USE hyperlinks in Notability

updated 01/26/2022